Our Web Services
Our Websites
About Us
Shop and Compare
Want to find other website designers, website hosting companies, or other website related services in your area. Visit the website below to find them world wide.
Bobbybee.Com of Sherwood, Ohio, is your # 1 source of website design and Internet marketing services in Northwest Ohio. We can build you a website that will get you noticed, and handle all your website maintenance needs as well. Bobbybee.Com will take care of your web needs from web hosting to web design to online marketing.
Your website represents your company's image, and a professionally designed web site or a custom web page at one of our directories will give your business a strong boost.. We cater to small business owners on a limited budget. Our packages allow individuals and small businesses to have an Internet presence at a reasonable cost. For more information on our web design and services we offer, please check the links at the upper left of the page.

Some of the other attractions from Bobbyee.Com is our community website for Sherwood Ohio, www.sherwoodohio.com . We are currently # 1 in information on Sherwood Ohio on the Internet, all in one place. We offer Local weather, local business websites and other local information for the Village of Sherwood Ohio. See what's going on in Sherwood Ohio today.

We have added two more websites to our line up to better help you market your businesses and shops within northwest Ohio. The first is Shop Bryan Ohio.com, www.shopbryanohio.com. This website is up and running as of 2005 and is an online business directory for the Bryan, Ohio area. It serves as an area for area businesses to get themselves an Internet presence at a reasonable cost with our custom ad pages. As of 2007, the website draws more than 10,000 visitors per month across it's home page.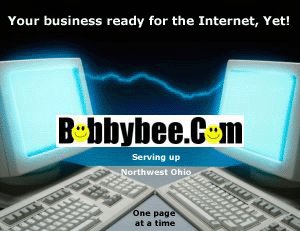 The second one is Shop Defiance Ohio .com, www.shopdefianceohio.com. It to will be an online business directory designed to better help market Defiance area businesses looking to put their stores and shops on the Internet. The website went live mid 2005 and now draws a visitor base of 8000 per month.

Both websites will have free business listings, enhanced business listings, local business web pages, maps and local advertising.
Give us a CALL 419-769-3141
and explore your options!

Links | Old Sherwood Directory | Bobbybee Mall
Attention: Bryan, Ohio and Defiance, Ohio Businesses. We have two websites to help you market your businesses and services in the northwest Ohio area on the internet. Now you can give your customers more, put your business on the internet without the cost of maintaining your own website. Let us build a custom web page for your business that will get you noticed. Check out the web services link on the left menu bar or visit our websites below and find the advertise with us links, then give us a call so we discuss how we can develop you your spot on the World Wide Web.
We are now accepting credit card payments for selected website services!
YOU BUILD IT
Web Hosting
Now
Available
1500GB Storage
15000GB. Bandwidth
2500 e-mails
Online Web Builder
Ready-made Templates
$109.00 yr.
________________
WE BUILD IT
Website Design
Specials
6 pages
10 Photos
1 yr. Hosting
Search Engine Ready
$650.00
________________

________________
Other online resources